Taking Your HGV Licence Training
HGV licence training can open the way to a range of delivery and transport opportunities for you. This could mean delivering building materials, transporting tankers, or moving livestock. But before you get around to driving on your own, you'll have to go through your HGV practical training.
To begin your HGV licence training, you'll need to hold a car licence, and apply for provisional entitlements on higher class vehicles. You'll also need a medical report demonstrating your fitness to handle larger vehicles.
With all this preparation out the way, providing you've passed your theory test, you'll be ready to get behind the wheel of a HGV for practical training. But what does a day look like for a HGV learner driver? Read on to find out!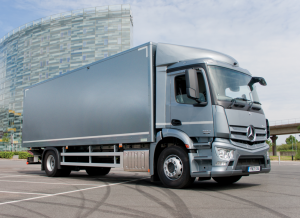 A Day in the Life of a HGV Learner
A day of HGV training will usually begin with a vehicle check. The same will be a part of your day as a professional driver. This means making sure your tire pressure is right, and all fluids are at a good level. You might also be checking for damage. HGV vehicles are often shared between drivers, so everyone needs to check their vehicles before they set off to ensure they remain safe.
Before you set off, you might also stop to learn about loading and unloading. Many agencies or companies can expect you to help with loading. Learning how to safely control your trailer now could save you from injury in the future.
Next, you may head out onto the open road. For this, you'll need to be accompanied by a qualified HGV driver. Here, you will get to grips with the HGV and its size, and may practice following signage to a destination.
A HGV test can involve a variety of manoeuvres, so you'll likely practice these during your HGV licence training. These include reversing into loading bays, acceleration, and parallel parking. At the end of your journey, you'll more than likely get a chance to put these manoeuvres to the test.
Of course, before you take on any practical training, you'll also need to pass your HGV theory tests. Getting to grips with test questions, hazard perception and case studies are an essential part of HGV training. Your instructor will be more than happy to support you as you prepare for your theory test.
Train with the Very Best at NxtGen Driving Academy
To get the most out of every day of your HGV licence training, you'll want to work with a great instructor. At NxtGen Driving Academy you'll find a range of instructors and courses that cover all kinds of large commercial vehicle.
NxtGen Driving Academy's LGV C Class 2 training courses will help you quickly get to grips with handling a large vehicle safely and confidently. The Class 2 licence allows you to handle everything from box trucks to bin lorries.
Visit our website to learn more about the commercial driver training available with NxtGen Driving Academy, or contact us to book your course today!